You've got the voice. You've got the lyrics. You've got the beats. Now all you need is some good beat making software.
But you Google DAWs (Digital Audio Workstations) and feel stumped. Where do beginners start? And if you're seasoned in the producer scene, how can you take your beats to a new level?
Look no further. We're here to help you find the best beat making software. Software that fits your level, and will make your dream of becoming the next Travis Scott easy breezy.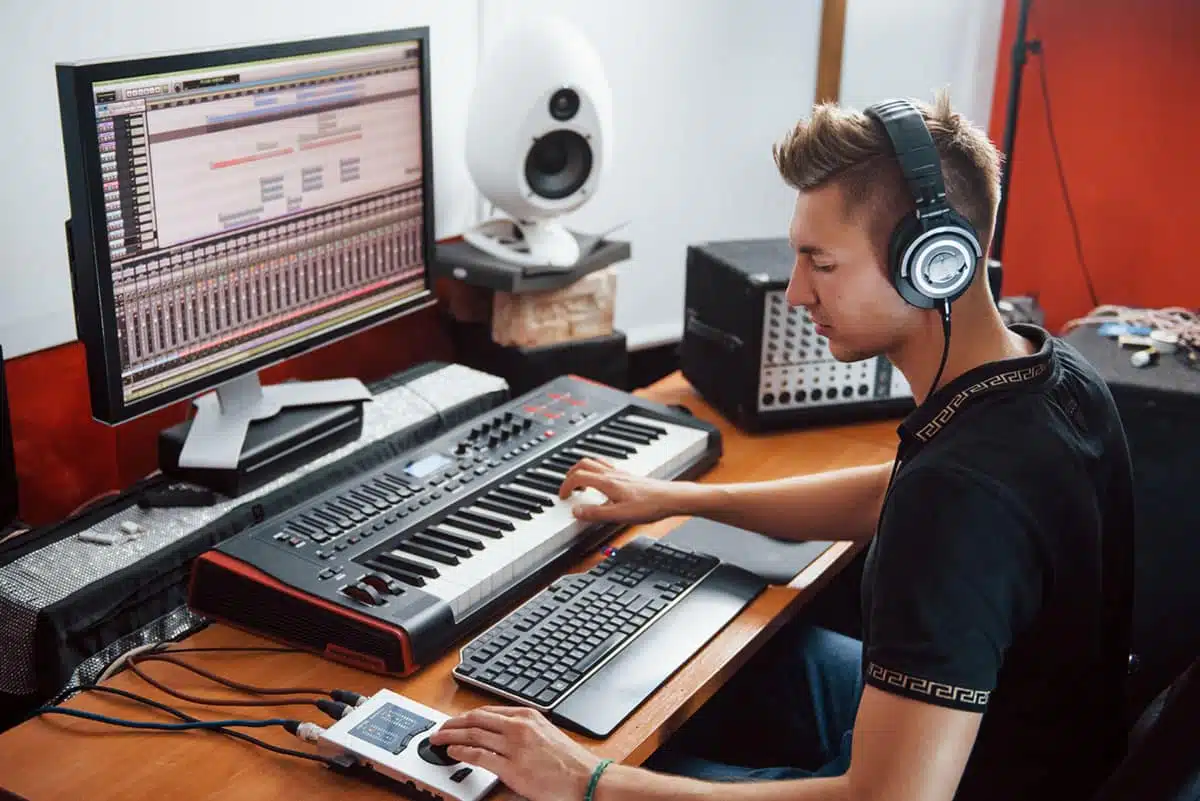 FL Studio: The Best Beat Making Software for Beginners
FL Studio (Fruity Loops) is the best beat making software for beginners and experts alike, and for good reason. It features a sleek, modern UI. From the get-go, it offers a dead-simple interface to start making beats right out of the box.
With a few short clicks, you can set the proper BPM and compose a simple looping beat. Don't like FL Studio's default snare and kick? The program makes it stupid easy to load a VST (Virtual Studio Technology, a virtual instrument) of your choosing–that is, if you're not already impressed with FL Studio's included VSTs.
The drag-and-drop function allows you to easily insert WAV files so you can play around with your own homebrew sounds. With practice, you could push out a solid beat in as little as ten minutes.
FL Studio is also among the most affordable options, with its Fruity Edition retailing for a total of $99 USD. And for beat makers on the go–and who might be reluctant to shell out the entry cost–the mobile version comes out at a cool $14.99.
Ableton Live: The Pros' Choice
Where FL Studio is the patron saint of newbie producers, Ableton speaks to the soul of those with skin in the audio production game. This powerhouse is used by greats like Skrillex and Diplo, and for good reason; it doesn't just allow you to create beats, it aids the creative process, too.
Ableton does this through a novel session view mode. In essence, it allows you to audition loops and work through your creative process on your own terms. Ableton is built for beat makers who sit for long hours in the studio, experimenting until they get the beat just right.
Not only is Ableton useful for beat junkies who need that loop-focused live performance to polish their track, it's a versatile program that allows compatibility with plugins of all kinds.
That said, Ableton comes in at a significant price increase over FL Studio, running you $469 USD. However, unlike subscription software such as Adobe Cloud, you're paying to keep Ableton forever!
GarageBand: Apple's Legend
GarageBand is probably the most familiar on this list since you've likely spent hours experimenting with it as a child. It comes free with all Mac devices, has a heavy library of samples, and requires next to no knowledge of music theory or DAWs to begin making beats.
But don't too be quick to dismiss it! Umbrella, one of Rihanna's most famous tracks, was made with GarageBand!
To be clear, this is not the be-all-end-all of audio production (if you skipped ahead, you'll see Logic Pro is up next) but it's a great entry option for beat makers who need a simple program that democratizes the costly, complicated world of audio production.
Unfortunately for the Windows users that hungered to get their hands on GarageBand, it's a Mac exclusive–though there are similar Windows programs like Audacity. For a grand total of $0, it's hard to beat GarageBand's price versus performance ratio.
Logic Pro: The Premium Apple Option
And now our all-rounder enters the ring! Apple is known for being the professional artist's OS of choice, whether they be filmmakers or 3D modelers. As such, it's no surprise Apple provides a killer audio workstation competitor for its loyal Mac lovers.
If you spent your childhood in the school library making beats with Garageband, you'll feel right at home with Logic Pro. Except, this time you've got some delicious new goodies, such as Logic's renowned step sequencer, or their recent AI drummer–that's right, if you've hit a creative block, a robot will write drum sections for you!
Besides featuring Apple's legendary optimization, the layout is easy to grasp for beginners. It's an excellent choice for beat makers who want to demo their beats live, allowing them to easily collaborate with rappers and singers.
And as luck would have it, Logic Pro sits at a comfortable price point for those who aren't satisfied with FL Studio but aren't ready to commit to Ableton Live. You can purchase this Mac exclusive for $199.
Check out this in-depth tutorial on Logic Pro!
Audacity: Free for All
Audacity has the audacity (someone had to make the pun) to provide a powerful, versatile program at no cost to you. The program is popular with singers and podcasters who want an easy interface to record their vocal material. Beat makers likewise have a useful tool at their disposal, too.
Now, you need to understand that Audacity does not have MIDI support, and using plugins will require you to make some unofficial tweaks. That said, the program is an excellent choice for beat makers who record their own beat foley, and would need a quick-and-easy interface to mix and match, or layer vocals onto their tracks.
Not only is Audacity as free as the air you're breathing, but its supplemental software is also. Planning to output MP3s, or other proprietary digital standards that Audacity can't natively support without violating copyright laws? Online tutorials will make it easy to install necessary codecs.
Bitwig Studio: The Newcomer
Like Dave Mustaine separating from Metallica to form his own band, Megadeath, some former Ableton developers broke ties to build Bitwig, the next generation of DAWs. Bitwig is the new kid on the block, first appearing in 2014, and has since risen to prominence among masters of the trade.
As you can imagine, the developers brought what good they'd seen in Ableton, and added their own take on workstation flow. It's built upon the same non-linear design concept that gave Ableton its rise to fame, whilst adding needed modularity.
In short, our dear beat makers, this program aims to make your journey into producing beats easier and adapts to your workstyle in the process. You get Ableton's patent looping philosophy plus the ability to arrange the interface to taste. MIDI support is solid, as is the audio editing.
Also similar to Ableton Live is the price. Bitwig will cost you $399. However, given the love it has received and the faithful developer support, this may be the last DAW you purchase to make beats.
Reaper: The Affordable Powerhouse
If Audacity doesn't pack the punch you need, and FL Studio is just a pinch above your budget, Reaper is the beat making software you've been searching for. Remember WinAmp? This option comes from the same developers of that well-known audio player.
Don't let the price give you the impression that Reaper cut corners to achieve what it has. This is a comprehensive DAW based on tracks that have no types. A track can be MIDI, audio, VST, or whatever you like.
Reaper appeals to fresh audio producers as much as knowledgeable ones. Its arranging interface is no-nonsense. For engineers who want to dig into the routing matrix, Reaper lets you do just that.
Best of all, Reaper has a lengthy 60-day trial. You can really get a feel for things before committing to the reasonable $60 asking price.
Cubase: An Oldie, but a Goodie
Elder audio engineers will remember Cubase, one of the first DAWs to enter the market. It started as a MIDI-only player, but despite growing into something much more, its MIDI capabilities remain second to none.
Like most beat makers, you probably have your go-to VSTs. Instruments with the crunchy beats you crave. Believe it or not, Cubase was a pioneer in the development of Windows VSTs, and thus plays well with any VST you can throw at it.
Cubase has a cult following and continues to be one of the best DAWs on the market today. It's an excellent option for beat makers who need software that doesn't skimp on all the necessary features.
Unfortunately, Cubase is the priciest option on this list, coming out at $878. But for beat makers who want the ultimate in audio production, this may be the next step up that you're looking for.
The Verdict
Beat makers in embryo and beat makers who've made their mark will find plentiful options here. There's no better time than the present to get into beat making and release that fire mixtape you've been working on in your head all these years.
And when you're ready to make the climb to fame, you'll need a website to promote yourself. Now that you know all about the best beat making software, get out there and make some beats!